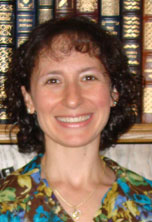 Felicia Voloschin is married and has lived in Long Island, New York, Miami, Florida, Boston, Massachusetts, and Augusta, Georgia, before settling in Atlanta, Georgia with her husband Dr. Alfredo Voloschin and her two children Arie and Datya.
Felicia has spent the past 21 years assisting individuals and small to mid-sized business owners across the United States in achieving their goals and dreams. She has helped guide people through the confusing and often complicated tax and financial planning laws, and makes it easy to know what to do next. Being an entrepreneur herself, Felicia puts a pro-active, down-to-earth, "I've been there" kind of approach to business and individual tax and financial planning.
CPA – Certified Public Accountant – Licensed in New York (1996) (License #075039), Georgia (License #CPA028427)
CFP  Certified Financial Planner – Licensed (2000) (License #64611)
BBA – Hofstra University – Long Island, NY (1990) concentration in accounting
MS in Taxation – Masters Program Long Island University, CW Post Campus, NY (1996)
Current Firm Information:
Life's Business Inc. is an Investment Advisory Firm in the state of Georgia and Florida.
Felicia Voloschin is an Investment Advisor for Life's Business, Inc. in the state of Georgia and Florida.
Felicia Voloschin owns Life's Business Tax & Consulting Services, Inc., an accounting and tax planning practice separate and distinct from Life's Business, Inc.
Hands-On Prior and Current Entrepreneurial Ventures:
As a sole proprietor, Felicia has been serving small business and individual clients across the United States in business and tax planning since 1995,and financial planning since 1999
Owner/operator of Bronx Realty I Corp. – commercial and residential real estate located in the Bronx, NY (sold in 2000)
Founder/operator of Top Line Limousines, Inc. – small limousine company specializing in weddings, located in Great Neck, NY (sold in 1998)
Founder of NY based seminar

The Business of Getting Married

, gaining NY Times recognition (Long Island Journal 3/2/97)
Founder of Carpool Conversations – online news service inspiring family conversations regarding news and current events. www.carpoolconversations.com (founded 5/2010)
Former Tax Experience:
Arthur Andersen & Co. (1990-1993)
NY Real Estate Accounting Firm of Kenneth Leventhal & Co.(1993-1995)
Small business tax specialist for the Long Island, NY CPA firm Raich, Ende, Malter, Lerner & Co. (1995-1997)
Tax specialist for small businesses and high net worth individuals for NYC CPA firm David Berdon & Co. (1997-1999)
Prior Financial Planning Experience:
Mutual Funds Broker and Life Insurance Agent (AXA Financial, 1998-2001)